---
Y
ou are the Best Wife
by Ajay K Pandey is the second book I have read which is published by Srishti Publishers & Distributors. This book has a unique quality about its weight. Though the book contains 240 pages it is a very light weighted book. Before writing my review, I must admit that I would have been regretted all my life if I were not read this book. Actually, I didn't want to review this book!! No! Don't take my statement in a negative way. But you read it right! Yes! Because this book did not only touch to my heart but made me cry like a baby while reading this true love story. It took me, at least, four days to disconnect the story and forget characters of the book. And I didn't want to recollect those memories because I just wanted to avoid tears in my eyes once again. But this is also a fact that I can't miss this pleasure to review and analyze this true love story.
---
Detailed Analysis of
You are the Best Wife
:
a true love story
by
Ajay K Pandey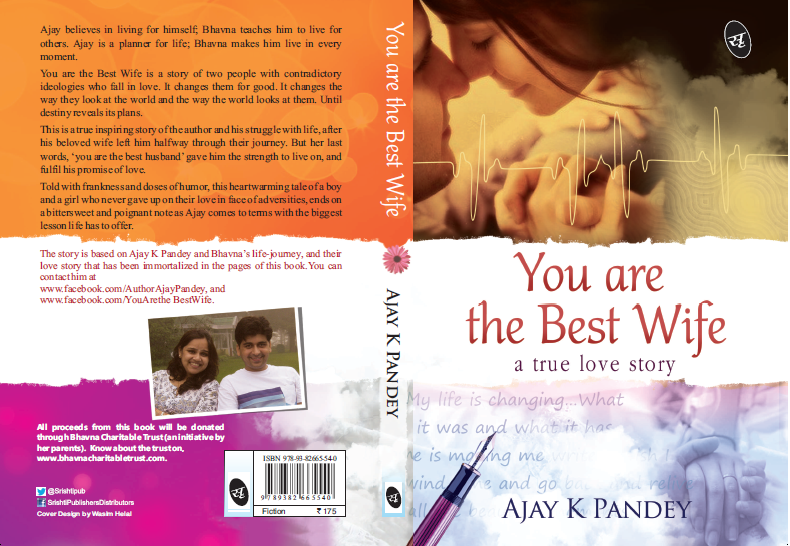 [Book cover of You are the Best Wife

]
BOOK COVER:
The book cover of You are the Best Wife is designed in three parts. The couple is designed in the first part holding each other's hand. There is a line of heart beats. Book title
You are the Best Wife
and tagline
a true love story
is printed in the middle of the cover. You are the Best Wife is the perfect title for the plot and story. Tagline 'a true love story' has two meanings- one is the indication about novel's realistic theme and second what the true love is!! In the third part, nib can be seen near some sentences written in watermark above the author's name
AJAY K PANDEY
.
Overall Wasim Helal has designed a perfect cover according to the genre and plot of the novel.
Theme:
You are the Best Wife
is a fiction novel which covers various themes like friendship, love, romance, social awareness and the mixture of comedy as well as tragedy.
Locations:
The story of Ajay and Bhavna runs through different locations like Fortis Hospital Noida, IERT (Institute of Engineering and Rural Technology, Allahabad), Rihand Nagar, Allahapur, Prayag Railway Station, Pune railway station, IIMM Pune, Hyderabad, Mumbai, Raipur, Noida and Okhla (Delhi)
Language and Writing Style:
The novel is written in very simple English. Author Ajay K Pandey uses narrative style to write the story. He narrates the story as a first person. Some flashback scenes and incidents from past are narrated as a diary. Each Hindi sentence used in the book is followed by English meaning.
CHARACTERS:
There are 7 major, and around 25 minor characters including a nonliving character (i.e. Ajay's bicycle Dreamliner.)
Ajay K Pandey (Sonu): Ajay is the central character in the novel. You are the Best Wife is author Ajay K Pandey's own true love story. He is a protagonist in the story. Yes! This is the character of author Ajay K Pandey himself. Readers hear the story from Ajay's memories.
Bhavna:

Bhavna is also a protagonist in this love story. Her character motivates readers. I can say that her character is my favourite one. Her husband and author Ajay K Pandey portrays Bhavna's character as the best wife.

Sri S. N. Pandey Ji:

Author portrays Pandey Ji as Ajay's father.

Gaurav Singh:

Author portrays Gaurav's character as his roommate in IERT hostel.

Mr. Pradhan:

Author portrays Mr. Pradhan as the father of Bhavna. He comes from an educated background and works as the bank manager in a nationalized bank.

Mrs. Pradhan:

Author portrays Mrs. Pradhan as the mother of Bhavna. She also comes from an educated background who is a housewife.

Harsh Tomar:

Author portrays Harsh's character as the true friend. His character is an example of how a true friend should be!!
There are some minor characters like Ragini (Ajay's crush in school), Warden (in IERT hostel), Arvind Chaubey, Dipendra Singh, Tushar and Neha (Ajay's friends from IERT), Akansha Singh, Beena Mishra and Parul Tripathi (Bhavna's friends from IERT), Niharika, Somya and Kavita (girlfriend and wife of Gaurav, Dipendra and Arvind respectively), Professor Bisht, Mr. Baloo Pandey (from IERT), Vaibhav and Vishnu (Ajay's friends from IIMM, Pune), Sachin and Ashish (Ajay's friends from office), Jaipal Singh (Ajay's boss), Reema (Bhavna's boss), Pooja (Bhavna's elder sister) and Mr. Nanhu (Pooja's son).
[Watch this emotional video teaser of Woman's journey in
You are the Best Wife
on ©Youtube]
You are the Best Wife
contains 39 chapters along with a prologue. Book starts with the scene in the hospital where Ajay's beloved wife was admitted. First chapter's title 'Ragging is a Criminal Offence' itself conveys a message. The chapter is full of humour on author's parents' concern. The author does not spare to make a fun on even himself. The author provides a horrible fact of ragging. He describes how ragging is prohibited only on papers. The first chapter recollects the memories of one's college days. Readers read about Ajay's first interaction with Bhavna in the second chapter. The author writes about 'Freshers' Party Preparation' in the third chapter. The fourth chapter is about 'Pioneer Computers and My (Ajay's) Dreamliner Cycle'. The fifth chapter 'The Most Romantic Hour of My Life' is one of my favourite chapters because of flawless love scenes included in it. Sixth chapter "It's easy to make friends, but difficult to keep them" is a quotation in itself. Bhavna's birthday commemorated me the birthday of my someone close. Author informs about valentine week & post valentine week in the seventh lesson 'How do I propose?' In the next chapter, Ajay confesses those magical words to the Bhavna. On the 'Breakup Day' (21st February) Bhavna defines Ajay what the true love is!!! The author writes about his 'Welcome to the crazy world of love' and 'Struggle for placements' in next two chapters. He comments on girls' and women's beauty products in the chapter 'Hyderabad to Pune'. A comparison between Shahrukh Khan, Kajol, Ajay Devgan and a connection between Bhavna (as Kajol) and Ajay K Pandey (as Ajay Devgan) is outstanding! Author comments on arrange marriage and love marriage in 'Winning half the battle'. The author describes the true reason (fear of society) behind parents' protest against love marriage of their children. Few scenes from the book will make you cry and one among those is the scene where Bhavna makes a list for Ajay in his 'Delhi to Raipur' visit, it will burst you with laughter. The author criticizes a discrimination based upon cast and supports humanity but at the same time, he remarks about the need for society for a human being in his father's words- "Caste and religion are important because we live in a world where you are alone if you do not belong to one. I understand the world is changing and I wish that one day we could think beyond this man-made discrimination of caste and religion. Until then, we have to deal with the society. We are social animals; perhaps more animal than social." Ajay's unfortunate fates and struggle commemorates Vasu's unfortunate fate and struggle in life from the novel 'Karna's Alter Ego' by Surendra Nath. The author refers the research of Mental health report by WHO. The author connects 'Brahman ka ladka (Ajay) aur kayasth ki ladki (Bhavna) with the story of TV serial 'Ye Pyaar Na Hoga Kam' in the chapter 'My quilt and my guilt'. Author comments on Indian rail and conveys the social message to not commit suicide. 'My happiest video clip' inspires us to collect memories. 'The quality of life is what matters' inspires us to enjoy the every moment of life because "Life is not measured by the number of breaths we take, but by the moments that take our breath away. Life is a journey; we all are born and will die someday. Some celebrate their silver jubilees, some celebrate golden ones and some may score a century, but life cannot be evaluated on the basis of the number of years spent alive. The quality of life is what matters, not the quantity."
[Watch this emotional video teaser about Friendship in
You are the Best Wife
on ©Youtube]
A bittersweet conversation between husband and wife make us laugh with fun but touches to heart at the same time. Twenty-sixth chapter 'A loving daughter and a would-be-father' ends with a surprising fictitious ending.
The author gives facts and some information about dengue,

septicaemia

septicemia / sepsis in the twenty-seventh chapter. 'Bhavna's sleepless nights' and 'Fight for your husband' will make you cry if you are not a stone-hearted reader; I am writing this cause I cried while reading this. A conversation between Ajay and Harsh in 'The world is beautiful' touches to the heart. "A true friend sees the first tear, catches the second and stops the third." Harsh's character sets an example of a true friend and true friendship. In chapter thirty-two 'The biggest truth of life', the author gives a glance of government reputed hospital like AIIMS. In the second last chapter, the author appeals to do 'The right thing for the right reason' through any possible way of donation to the charity. The author tells what the true happiness is in his quotation "I found that true happiness in life lies in helping others."
Author's acknowledgment on behalf of Bhavna seems like a tribute to her by the author.
My favourite QUOTES from the book:
[Watch this teaser of quotations from
You are the Best Wife
on ©Youtube]
"There are two kinds of personalities. There are those who have everything and still complain as if they have nothing. And there are those who lose everything and act like life has given them everything. Sometimes both these personalities exist in the same soul. Kill the first one, I love the second." – Bhavna
"Parents always understand us,

sometime

even more we understand ourselves."

"If someone says that you are intelligent, it means you are dumb."

"Love makes a person a secular."

"If a person never cries, it doesn't mean he is not

emotional

man. It could be that he is a strong man."

"Don't hold back your ears. The more you cry, the lighter you will feel. You'll be less burdened with grief and pain. When we restrict ourselves and don't cry, we actually build up internal pressure. And when the tears fall, the pressure is released."

"When you don't have your beloved with you, every festival becomes meaningless."

"Forgiveness is the attribute of the strong. Forgive God and show that sometimes humans are even superior to Him. Forgive others, not because they deserve forgiveness but because you deserve peace."
Typing and Printing Errors:

Yes! Names of some locations, characters and words are misspelled there. Some words are repeated. There are some grammatical errors. As a narrator of dialogue from DDLJ, "Ja, jee le apni zindagi," the author refers Anupam Kher instead of Amrish Puri as Simran's (Kajol) father on page 101. Italic fonts are not used properly.

I understand author's emotions while writing the book but no author or no character is allowed to use the language or wish to kill PMO or a selective post or person to express anger. It had to be written as upper authority.

Poor Page Quality:

I don't know whether I received pirated copy from Amazon.in or what but the book I have received has very poor pages quality. Some words faint there. If its original copy then Srishti Publishers should use better pages. MRP Rs. 175/- is ok for the book but it becomes expensive while considering the cheaper quality of pages.
[©Author Ajay K Pandey]
Ajay K Pandey grew up in the modest NTPC township of Rihand Nagar with big dreams. He studied Engineering in Electronics at the IERT (Allahabad) and MBA at IIMM (Pune) before taking up a job in corporate firm. He is currently working with Cognizant, Pune. He grew up with a dream of becoming a teacher, but destiny landed him in the IT field.
Travelling, trekking and reading novels are his hobbies. Travelling to different places has taught him about different cultures and people, and makes him wonder how despite all the differences, there is a bond that unites them. Trekking always inspires him to deal with challenges like a sport. Reading is perhaps what makes him feel alive.
You are the Best Wife is his debut book based on his life events and lessons.
Apart from writing, he wants to follow his role model Mother Teresa and make some contribution to the society. He aspires to start a charitable trust that would support aged people and educate special children.
"Y
ou are the Best Wife'
is totally pure love story with no mixing of fictitious elements. This is a perfect material with the tadka of friendship, love, romance, comedy, action and tragedy for any film director to make a blockbuster. The novel makes you laugh and cry at the same time. Each page in the book keeps you connected with the story, even a single line of 240 pages does not feel you boring so this is the perfect page turner!! I wish IF the one were able to read this story for whom the author has written this book. I don't claim I am the best reader or the best reviewer, but I can say that 'You are the Best Wife' is the best love story I have ever read because this book did not only touched to my heart but made me laugh and cry like a baby while reading this true love story. It took me, at least, four days to disconnect the story and forget characters of the book.
I would not only recommend but urge to all engineering students, engineers, true lovers, husbands and wives, and every reader who like romance; go and must read this novel 'You are the Best Wife' by Ajay K Pandey; because you will find the story related somewhere to your own life. The story makes you remember all bittersweet memories we have spent in college days. But heart patients, be aware! Though this isn't a thriller, this book can make your exit from the earth!! Hehehe
J
!! In short
'You are the Best Wife'
is the perfect gift to gift our loved ones!!
I know, there are few drawbacks in the book which could and should be avoided and those are not ignorable; but I am also aware that Ajay K Pandey sir is not a regular author and it
is his debut novel. I don't mean that drawbacks are allowed in debut authors' novels. But I can understand in what conditions author would have written this story. If I would rate the book considering drawbacks and literary terms I would give 4 out of 5 stars. But I won't rate the book considering literary aspects because I respect author's emotions behind penning this story, and for me story matters more than drawbacks in such novels which deserve one extra star, so
I am giving 5 out of 5 stars to 'You are the Best Wife' by Ajay K Pandey
sir.
---
[Watch this emotional video teaser of You are the Best Wife on ©Youtube]
Title: You are the Best Wife
Tagline: a true love story
Publisher: Jayantakumar Bose
Published by: S
RISHTI
P
UBLISHERS
& D
ISTRIBUTORS
The first edition in 2015
Copyright: ©Ajay K Pandey, 2015
Cover Design by Wasim Helal
Pages: 250 (including cover)
Price: Rs. 175/- (incl. all taxes)
Reviewer: R
AJESH
D. H
AJARE
(RDH)
My Rating:
5/5 (Excellent)
---
Ajay believes in living for himself; Bhavna teaches him to live for others. Ajay is a planner for life; Bhavna makes him live in every moment.
You are the Best Wife is a story of two people with contradictory ideologies who fall in love. It changes them for good. It changes the way they look at the world and the way the world looks at them. Until destiny reveals its plans.
This is a truly inspiring story of the author and his struggle with life after his beloved wife left him halfway through their journey. But her last words, 'you are the best husband' gave him the strength to live on and fulfill his promise of love.
Told with frankness and doses of humor, this heartwarming tale of a boy and a girl who never gave up on their love in the face of adversities, ends on a bittersweet and poignant note as Ajay comes to terms with the biggest lesson life has to offer.
The story is based on Ajay K Pandey and Bhavna's life-journey, and their love story that has been immortalized in the pages of this book.
All proceeds from this book will be donated through Bhavna Charitable Trust (an initiative by her parents). Know about the trust on,

www.bhavnacharitabletrust.com

.
[Logo of
©
Bhavna
Charitable Trust]
So what are you waiting for just go and grab and/or gift a copy of 'You are the Best Wife' now…
---
You can contact author at:
You can contact publisher at:
You can contact Reviewer at:
---
Few quotes are used in this review as it is or with slight changes from the novel '

You are the Best Wife'

with the permission of the author Ajay K Pandey; reviewer does not claim to be the writer of those quotes and extracts.

This is my personal opinion about the book

'You are the Best Wife' by Ajay K Pandey and other readers' and reviewers' reviews may be vary.

The book

'You are the Best Wife' was sent to me through Amazon.in by the author Ajay K Pandey for the purpose of detailed analysis.

Reviewer of this book works as the President of Gondia District at Akhil Bhartiya Marathi Sahitya Parishad, Pune.
---
My reviews of book published by Srishti Publishers:
---
Reviews Coming soon Published:
A Trip To Maharashtra by Ankit Kumar

Her Last Wish by Ajay K. Pandey
---
Updated visitor counter: 399006
---
UPDATE: This Review is edited and republished on 12-13 Nov. 2017 on the 2nd Anniversary of the book launch.
Last Updated on: 13 Nov. 2017.