1193rd Day
123rd Blog  Post
8th Book Review
---
Hello readers! I want to publish the status of my resolutions of passing year 2015 in this week but I am very busy in reading books and writing reviews so probably this may be my last blog post published in this year. Anyway… I am here to publish one more book review. But before scribbling the title, I would like to thank Chetan Soni ji from Half Baked Beans Publishing who suggested authoress Ganga Bharani ji to send me a copy of her book A MINUTE TO DEATH for review. Now you would have understood that which book I am going to review here… Yes! I have finished reading A MINUTE TO DEATH by Ganga Bharani. Thriller is a genre of this book which I dislike to read generally; but I have read this book and A MINUTE TO DEATH is one of the best thriller I have ever read.
---
DETAIL analysis of 'a minute to death'
TITLE AND COVER
Image: © Book cover of A MINUTE TO DEATH
Front cover of A MINUTE TO DEATH suits to the genre. It is catchy, mysterious and thrilling. Shadow image of an inspector seems like a replica of a character Rohan's profession from his uniform. Title 'A MINUTE TO DEATH' is printed in red color. 'T' in deaTh seems like a knife with one end covered in blood. Blood spots can be clearly seen on a watch under a 'T'. Watch indicates a time @ 5:00 o'clock by keys as an hour hand and a minute hand of the watch. Later we get to know that every element printed on a book cover has own importance and role in the story. The book cover is beautifully designed by Arunkumar Dhanaraju but his name is missing on the about page and a back cover of the book. It is good that authoress herself mentioned his name in her acknowledgement.
---
BLURB
The blurb of A MINUTE TO DEATH is printed on a back cover behind the book, blurb of this book is written by Rufus.
Murder most foul or an open- and-shut case of routine suicide?
Young, vivacious and an aspiring writer, Riya wants nothing more from her longtime crush/boyfriend than to let her in on one of his exciting investigations. After all,what better source material for a book than a real life tragedy?
No-nonsense veteran cop, Rohan picks a case of probable suicide to satisfy Riya's needs. Little does he know that there is more to this case than meets the eye.
What made the victim hang herself at the break of dawn? What is the secret that her group of friends is hiding? Will Riya be able to salvage a workable plot for her upcoming novel out of this case of seemingly simple suicide?
---
ABOUT THE AUTHOR
Ganga Bharani (Source: ©Goodreads)
Author has two award winning short films to her credit. She has published two books including this one. She is a technical analyst for food, short film maker for fun, writer for life and a simple girl with complicated dreams for the rest of the world.
---
PRAISES FOR THE BOOK
"Unexpected climax. Thrilling Read."
-Karunakaran (Kollywood Actor)
"A Crime Thriller that will make you guess but surprise you with unpredictable twists. Unputdownable book of guessing game."  

-Dr. M. Ravi (

IPS, Inspector General of Police, Chennai)
"A Minute to Death is a kind of book that you don't want to put down, but once you are done with the book, you wish you could read it all over again without knowing the suspense, one more time!"
-Nandhitha Hariharan (Editor's note)
---
SETTING
Language and Writing style:- 

Ganga Bharani uses descriptive writing style in A MINUTE TO DEATH. There are no grammatical errors; punctuation marks, italic fonts and underlines are used properly. Authoress uses few phrases like 

'Hi-Bye friends'

, she compares silent room with an exam hall in a sentence- 

"The room was as silent as an exam hall for the next few minutes"

 which shows her deep observation. She uses capital letters to stress on words and sentences. Background of each scene is described in detail. Overall, Ganga Bharani uses a simple language in A MINUTE TO DEATH.
Locations:- 

The plot of A MINUTE TO DEATH runs around Raghavan Colony, police station, Avanthika's apartment and Reema's house in Chennai.
---
FICTITIOUS CHARACTERS
Riya:- 

Authoress sketches Riya as the central character of this novel. Her passion to become one of the most popular thriller author can be seen from her three statements in a book- "It's my dream to closely watch a crime scene and write a book","I actually have plans of marrying a publisher so that my passion earns for my own family, both ways, royalty and as a business gain", and "I can't wait to become a writer. It is the purpose of my life. I live to write. I don't need money, I don't need fame. All I need is to be read and to write quality stories; to bring the real emotions and the real feelings in front of my reader's eyes. I want people to talk about my story in a train or a bus sitting next to me without realizing I am sitting next to them. Just want to hear readers' feedback, how they enjoy the story. I will work as hard as it costs me to become the kind of writer I fancy to be." One can feel Riya as authoress Ganga Bharani's replica.

Rohan:- 

Authoress portrays Rohan's character as the cop or inspector. He is a second central character in a story.

Ram:- 

He is a head constable in police station. Though he is junior of Rohan, he is not less than a friend or like an elder brother of inspector Rohan.

Jiya:- 

Jiya is the name of a character in Riya's next book.

Roshan:- 

Roshan is also a name of character in Riya's next book, Roshan represents inspector Rohan in her book.

Avanthika (Ave):- 

Authoress portrays her character as a victim; who founds dead mysteriously.

Deepthi:- 

She is a close friend of Avanthika.

Sonal:- 

She is an elder sister of inspector Rohan.

Jenny:- 

She is a friend of Avanthika and Deepthi.

Riyaz:- 

He is a son of Avanthika's house owner and a boyfriend of Jenny.

Reema:- 

She is a second victim of mysterious death.  

Ajmer:- 

Reema's boyfriend.

Febbon:- 

Authoress portrays Febbon as the most popular author of fictitious novels 'The smiling last' and '…A MINUTE TO DEATH'  in the book.
---
STORY AND PLOT
The story of A MINUTE TO DEATH is described into fourteen chapters. Each chapter's ending creates curiosity to read next chapters in one go. I felt first six chapters quite boring because of slow pace but story becomes interesting after entry of Deepthi. The book turns into interesting with lots of twists since a seventh chapter and no one can even imagine to put down a book before going through the climax. Authoress beautifully describes a relationship between Jenny and Riyaz. Story of A MINUTE TO DEATH runs around an investigation to find a reason behind Avanthika and Reema's suspicious suicides or mysterious death. Important roles of a watch stopped at 5:00 am, a knife and the title A MINUTE TO DEATH in investigation are surprising. Though authoress gives clues to make you guess, she successfully maintains suspense till the climax. A reader can guess, but will be surprised with another unpredictable twist in the story. Did you watch a movie Vettaiyaadu Vilaiyaadu? I didn't watch but I know the story. Yes! Authoress gracefully narrates the story of a movie from the words of Rohan. Though the book is a thriller, authoress adds few kiss and intimate scenes between Riya and Rohan which do not feel vulgar, but lovely and pleasant. This thriller turns into a tragedy in chapter twelfth. Authoress elegantly makes remember her readers that she has proved Riya's words true in the climax. Inspector Rohan's interrogation with witnesses seems logical and realistic. Authoress discloses each suspense one by one in the climax.
Authoress Ganga Bharani comments on several realistic issues like shameful dares. She sarcastically satires on policemen and politicians when her character Inspector Rohan himself says- "You know we are in a country where policemen and politicians can do whatever they want." She also comments on rich children's loneliness, parents' careless behavior with their sons and daughters, she gives an indirect massage to all parents that feeling children's bank accounts is not enough for happiness. She describes the philosophy of DEATH as "DEATH is the password to exit the world of confusion, the worldly pleasure and pains. Death is enjoyed when there is just A MINUTE TO DEATH. No matter how happy or sad your life has been, you will smile when there is just A MINUTE TO DEATH left. Death is felt just at the last minute."  In the epilogue, she gives a massage to those who commits suicide after being unsuccessful in their passion as"Some say the continuous failure makes them want to die. But if you are a failure you deserve to live more than a successful person. A failed person needs more time to reach success." "Passion is not which makes you go to the extent of death, passion is that which makes you want to live more to contribute more in that field." 
---
QUOTES FROM THE BOOK
"A literature student should always be punctual."

"Not telling anything is better than a NO."

"Suicide can never be justified and it is against the law."

"A thriller is a thriller; romance is romance; horror is horror. If you confuse both people and yourself and later remove the knot of confusion yourself, its suspense. If you confuse yourself along with confusing others, it is romance. If you want to make an aimless confusion logical, it becomes horror. The power of a book is in its capability to confuse the reader."

"Paperwork is the beginning of any misled investigation. Once you think you are done with the investigation of a case and you think you have zeroed down to the reason behind the crime, start your paperwork. That's when the actual investigation starts."
"You are not the moon to me as the moon is so far

You are not the sun to me as its always hot
You are not an ocean to me as I can't own it all
You are not the sky to me as others admire it too
You are the air that has no shape or face, but I can feel
You are the thirst that makes me want an ocean of water
You are the night sky that no one can see but me."
---
DRAWBACKS
---
REVIEWER'S NOTES
"I don't like thrillers but I read it because I know that I can't be partial with any genre as an honest book reviewer. I liked the book A MINUTE TO DEATH since I read author's detail acknowledgement in beginning of the book. Authoress gives credits to almost everyone who helped her directly or indirectly to come her dream true. Though A MINUTE TO DEATH is a thriller, authoress adds some romantic scenes in the story, so the book doesn't feel boring. It seems that authoress Ganga Bharani would have researched a lot about investigations done by policemen in crime scenes and their interrogations to witnesses, so the plot of the story seems realistic. 'A MINUTE TO DEATH' is the first thriller I have ever read. I would not wonder if authoress Ganga Bharani becomes the best thriller author around the country or even around the world. In the end, I would recommend this book to not only thriller lovers, but every thriller author and upcoming thriller writers must go through 'A MINUTE TO DEATH' to learn that how a thriller has to be written from Ganga Bharani."
---
RATING
The book cover deserves 5 out of 5 and I would rate A MINUTE TO DEATH 4 out of 5 stars.
---
A minute to death in brief
Title:-

 A MINUTE TO DEATH

Written by the authoress:

 

GANGA BHARANI VASUDEVAN

Editor:-

 

Nandhitha Hariharan

Publishers:-

 

HALF BAKED BEANS

First and second edition published by

 

Half Baked Beans in 2015.

Copyright:- ©Ganga Bharani

Typeset in Garamond 11 pt at Half Baked Beans

Format:- Paperback

Printed and bound in India

ISBN:- 978-93-84315-07-8 | 

9788192692616

Page counts:- viii

+

120

(excluding cover)
Price:-

Rs. 175

Genre:- THRILLER [ Crime | Suspense]

Rating:  
Reviewed by:- © Rajesh D. Hajare (RDH)

---
Notes:
This is my personal opinion about the book A MINUTE TO DEATH by Ganga Bharani and your feedbacks may be vary.

The book 'A MINUTE TO DEATH' was sent to me by authoress Ganga Bharani on a request of Chetan Soni from Half Baked Beans for an honest review.

Reviewer of this book is working as the Gondia District President at Akhil Bhartiya Marathi Sahitya Parishad, Pune.
---
Wish you a very HAPPY NEW YEAR 2016 in advance..!!!
---
Connect on internet: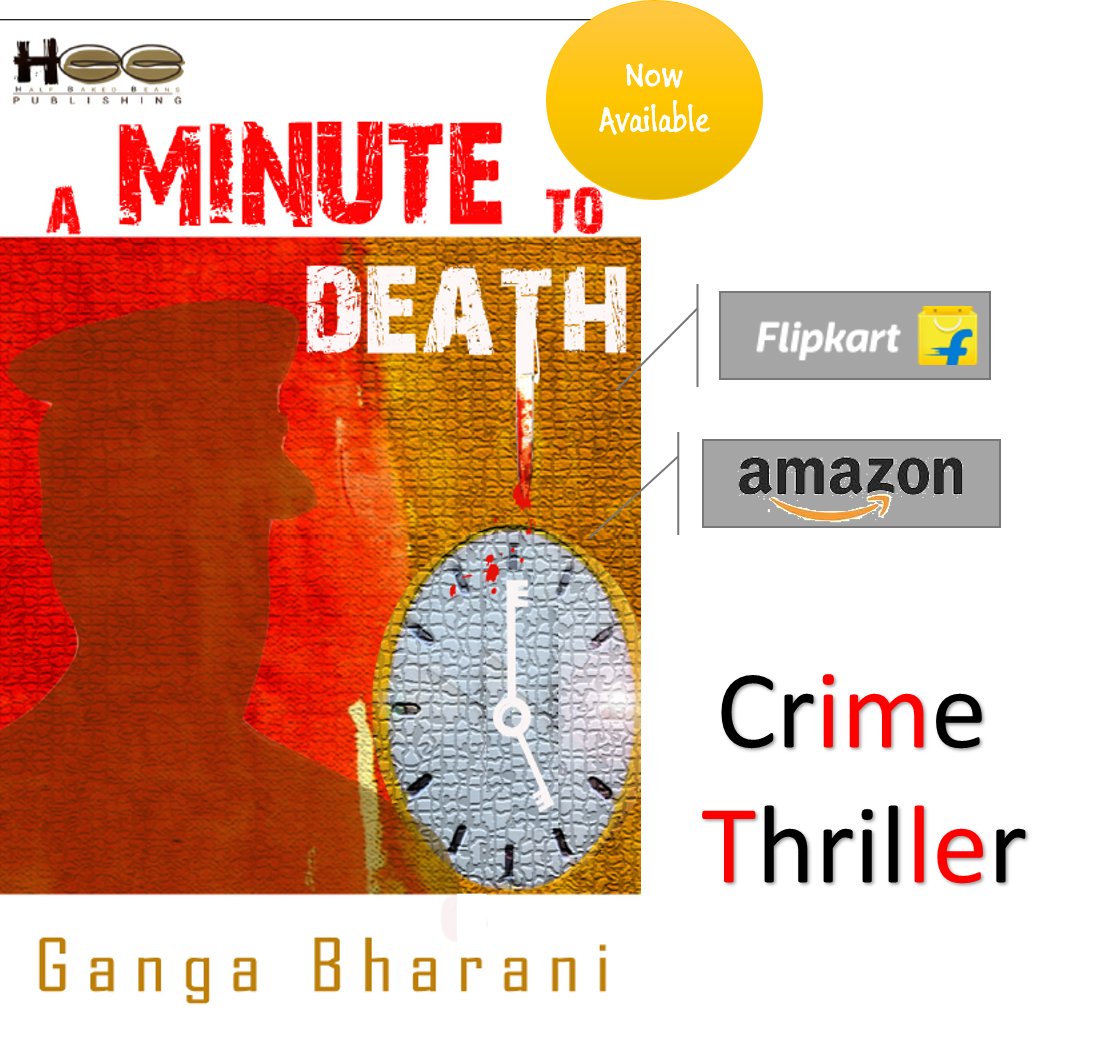 Buy A Minute To Death on Flipkart (4.4/5)
---
A MINUTE TO DEATH (4.18/5) | Ganga Bharani |  Rajesh D. Hajare
A Minute To Death | Ganga Bharani | Half Baked Beans | RDH Sir | Rajesh D. Hajare | Chetan Soni
@ganga_bharani | @HalfBakedBeans | 
---
---
Review Coming Soon: 

It Doesn't Hurt To Be Nice

  by Ganga Bharani

Now Reading: 

Khel-The Writing

  by Vishal Goswami

Books reading soon:

#IAm16ICanRape 

 by Kirtida Gautam

You Are The Best Wife

  by Ajay K Pandey

Without You

  by Preethi Venugopala

Hey Dad! Meet My Mom 

 by Sandeep Sharma and Leepi Agarwal

KLASS

  by Prita Yadav