Blogpost:- 118th
Day – 1149th
---
Hello readers!
We all come in contact with a fantastically large number of people during the course of our lives. Many we don't remember and some we do. Only once-every-gazillion years, do we encounter someone who really leaves a lasting impression. Someone who is #madeofgreat.
I am here to write a blog post about my father who is undeniably #madeofgreat for me, and I am sure that you too will agree that he is #madeofgreat after going through this blog post.
My father was born in a family belonged to below poverty line. As he tells us about his childhood, their family was surviving on binding beedis (handmade cigarettes) by him and his family. My father was a #madeofgreat student who always ranked on top in his school until ninth standard. He was good enough in sports like Kabaddi and Kho-Kho in his childhood so I can say him #madeofgreat sportsperson. Though my father's family was poor, that was happy family. But suddenly all the responsibilities fallen on his shoulders when he had not completed is matric. My father's father was attacked by paralysis. My father tried his best to fulfill his family's requirements. He himself made beedis to help his family. My father sold breads and fruits on bicycle in his village and the villages nearby. He worked on daily wages and in a shop to fulfill basic needs of him and his family. In those difficult days my father survived hardly by taking meal for one time but did not quit his education. He kept his education continued and passed SSC in first division which proves him #madeofgreat student and a #madeofgreat matured child.
My father could not afford buying books of Diploma in Education so he took admission in the Diploma in Agriculture for two years. After completing Diploma in Agriculture he took admission in Diploma in Education, but still he could not afford to buy books so he studied from written notes only.
My grandfather was paralytic and grandmother was superstitious, but "when God sends you with any problem he gives you some one as your strength." My father's friends were his strength in his difficult days. He has a sense of gratitude even today for his friends' favour to him and to our family. That's why my father is a #madeofgreat friend. God kept him much awaited for eight years longer period to be appointed as a teacher even after completing D.Ed. He had got a proposal for the post of village attendant (Gram Sevak), but he could not pay bribe of Rupees fifteen thousand which was indeed a big amount in those years. In that period, my father (Babuji) got married with my mom (Aai).
Finally a golden day rose in our family on 06th November 1996, my father was selected as a teacher in government school in Jalna district. He have had a wife and two sons, but he decided to leave his family to take care of his father and went alone for a job. He had exercised my mom that there were no chances to even think of taking family with himself to go to the place where he worked until his paralytic father needs care. He proved himself a madeofgreat son. My father married off his only sister before death of his father. But after death of his father, he took us with himself at Jalna. He discharged from all his duties as a #madeofgreat son and a brother; but after unfortunate divorce of my aunt, my father took all responsibilities of his sister on his own shoulders again. He proved himself as a #madeofgreat brother.
My father is a primary teacher. He served for more than eight years in Jalna district and now he has been serving in Gondia district for around ten years. My father has won hearts of his students, colleagues, seniors, officers, friends and neighbours with his humble, honest, lovely, kind behavior and positive attitude. So I see him #madeofgreat in each and every role he plays in his life.
My father taught both of us brothers a lesson to work anything with honesty, hard work and dedication and to go on the path of truth. Really he is my role model, my mentor and a #madeofgreat example of an ideal son, brother, student, friend, husband, father, neighbour, teacher and human being. I love my father and I wish him longest healthy life.
Before concluding this blog post, I would like to tell you something about #madeofgreat campaign for which I have written this blog post.
© Tata Motors and Lionel Messi – A #madeofgreat partnership (TVC) on YouTube
 #madeofgreat
The #madeofgreat campaign is the first time Tata Motors is undertaking an overall brand association campaign with a brand ambassador. It rides on a strong consumer motivation of 'Seeking Excellence' and 'Self Belief' which is showcased by the confluence of two global brands – Tata Motors and Lionel Messi. The campaign builds upon Tata Motors' DNA of trust, authenticity, reliability, simplicity, as well as its commitment to innovation.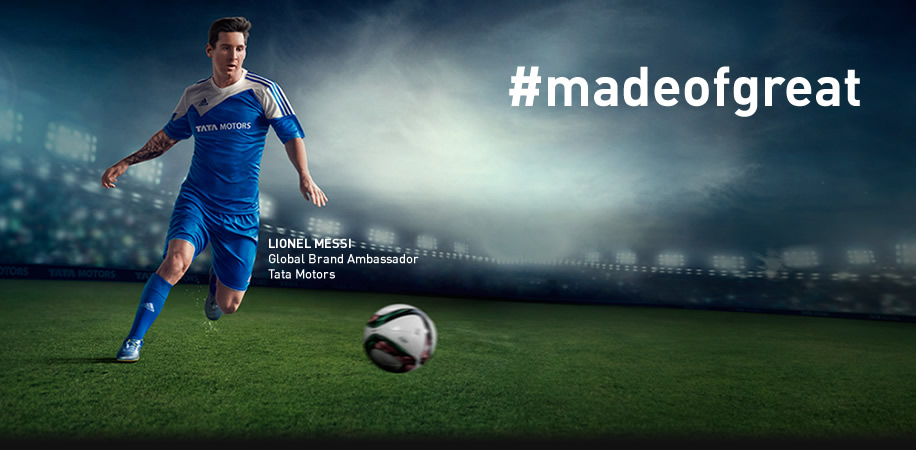 Picture: © Main Banner of Tata Motors' #madeofgreat campaign
Lionel Messi is talent galore with conviction and is an icon for today's youth. He is a winner who is trustworthy, reliable, pioneering, simple and driven by self-belief, which is what is at the core of Tata Motors as well. Thus, proving to be an idea fit for the role of Global Brand Ambassador.
---
---
GOOD NEWS FOR ALL READERS:- You can win Amazon.in voucher worth Rs 750/- by just answering* the following question in comment (below) of this blog post.
 

Question-

"What do you think of Tata Motors' association with Lionel?"
You have to comment your answer before 22nd Nov. 2015 at 11:59 PM.Please invite your 3 friends to comment to increase your chances.The winner will be chosen by me and the decision will be final.Contest rules/guidelines are liable to change.The Winner will be notified on registered email only.
Thank you so much..!!
---
Participant:

RAJESH D HAJARE (RDH)

Address: House No. 1389, Behind Saraswati Vidyalaya, 

At. Bangaon Tal. Amgaon Dist. Gondia (Maharashtra) 

PIN- 441902

Mob. No.: +91- 7588887401, 7744018492

Email:

www.rdh@gmail.com
---
Statistics of this blog (updated on 05th Nov. 2015)
IndiRank: 66/100 (Good)
mozRank: 3.32/10 (Decent)
Alexa Rank:

7.91

(Good)

Frequency of Posting: Very Good