10th Blogpost On My Birthday!

1st Blogpost after being a government servant!
Dear readers,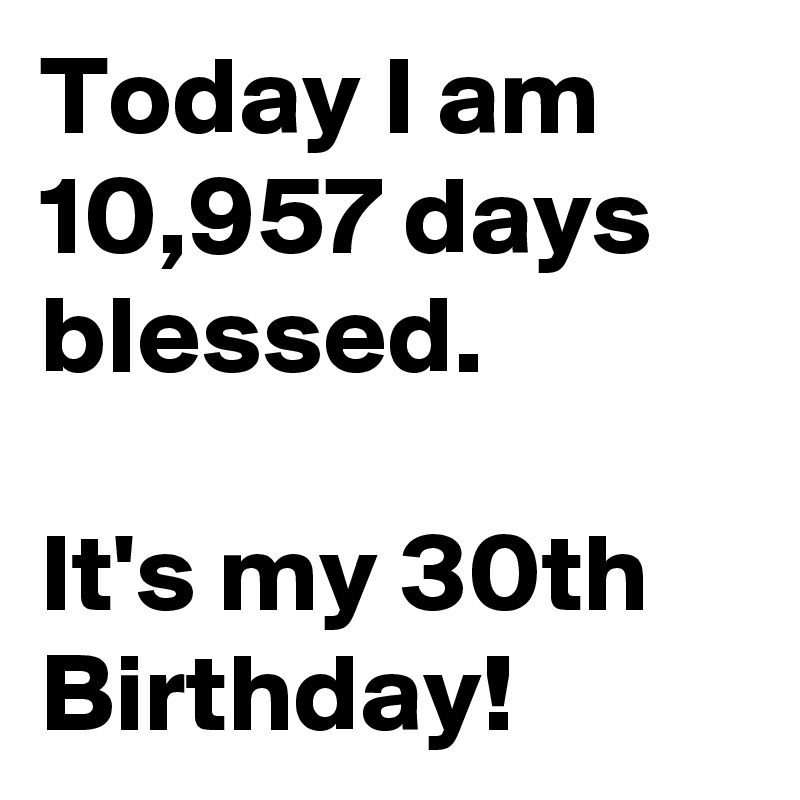 I, once again welcome all of you to read my blogpost on my birthday. Today is the 18th April, 2022. This is my 30th birthday! 30th! Uff!! Oh My God! Am I looking old? I can't believe that I have turned 30 today! No… No! I am still young! Budha nahi ho gaya mai! (I have not grown old...!!) Kya? Abhi bhi meri shadi nahi hui hai (I am still unmarried/single/bachelor)! Hahaha
J
!! Lol!! I am eagerly excited to express my feelings on this very special 30th birthday of my life.
I am aware that I have been very irregular on my posts last year but let me assure that my passion towards blogging has not faded. Please do not feel that I am not serious about blogging. Well! The truth is I was so busy that I could not fulfill my promise of revamping, redesigning and resetting my blog and website. But believe me; the fresh look of my blog will be launched very soon. I really appreciate your patience.
I know that you might think that it's been my regular dialogue about my blog on my birthday. I have been writing and promising the same thing on my every birthday for so many years. But believe me, I am not lying... I am really busy these days. Actually the fact is, I am busy in my YouTube Channel. I will talk about it in this blog post later... But before that, I would like to share the biggest news about my career on this very special day... If you would have read my previous birthday blog post on 18 April 2021; you might remember that I had mentioned that I was waiting for a permanent job. You might know that I had qualified in Madhya Pradesh Madhyamik Shikshak Patrata Pariksha or Madhya Pradesh Middle School Teachers Eligibility Test (MPTET, Grade 2) for the post of Secondary English Teacher. I had ranked 157th among all candidates who were appeared in the test. Selection process for the same was being undergone. I was selected for the post of Middle School Teacher (English) as per Provisional Selection List issued by the department on 29th Feb 2020. Our documents verification could not held twice and I was hopeful to get a permanent job that year.
Finally my documents are verified last year on 11th June 2021 by the respective administration. I am glad to share that I was ranked 73 in the Final Selection (Merit) list issued by the respected administration of School Education Department or Directorate of Public Instructions (DPI), Bhopal, Madhya Pradesh. Further I was ranked 11th in the Final Selection (Merit) list for School Allotment issued by the respected administration of School Education Department or Directorate of Public Instructions (DPI), Jabalpur Division, Madhya Pradesh.

And the biggest news is here-- I have joined as a Middle School Teacher or Madhyamik Shikshak or Grade 2 Teacher (English) at Government Middle School, Miriya (Block- Lanji, Dist- Balaghat) in Madhya Pradesh. I have been appointed on 09 October 2021. So I can proudly say that I am no more an unemployed person. I am a proud government servant now. Actually, I had to share this big news when I got posted; but as I said earlier, I was so busy in my new work and managing my YouTube Channel. Sorry for the delay from my side in sharing this big news...!
Last year 2021 went by giving full of mixed events in my life. I have many cheerful memories associated with last year. Usually I post cheerful memories of the year on my new year post but I could not publish my blog post on the new year this time... So, I had thought that I will share some of my memories in my birthday blogpost. So some of my cheerful memories are here-- Although delayed, I will try to publish a blogpost on my every single achievement/memory later but the list is here--
I have got a permanent job

and I am working as a Middle School Teacher or Madhyamik Shikshak or Grade 2 Teacher (English) at Government Middle School, Miriya (Block- Lanji, Dist- Balaghat) in Madhya Pradesh.

I was grand

welcomed by the entire staff of Government Middle School Miriya.
---
I was

given a memorable farewell by the staff and the students of my old school at

Abhinav Vidya Mandir Rondha. I can't forget a surprising gesture of my old students. Gifts given to me by my former colleagues and my students of standard X are memorable. A photo frame presented to me by my former students of Class X at AVM Rondha will be with me forever. Thank you will be a very small word to express my gratitude towards students, colleagues/teachers/non-teaching staff and management body of AVM Rondha/Salekasa.
---
I got fully vaccinated after taking 2 Doses

of COVISHIELD this year.
---
I have purchased a new smartphone

Realme GT Master Edition (8+256 GB, Voyager Grey) in December 2021. Although I was little confused to purchase an expensive smartphone like this, but I am really thankful to my younger brother Vivek for such a lovely recommendation.
---
I have celebrated Republic Day first time in my new school. Glimpses of that day are

amazing in my memories and in my Phone.

We had been to the forest of

Miriya and lake of Wari during.
---
We bid a farewell to the seniormost colleague Mr. J. D. Chaudhari Sir of our teacher staff at Government Middle School Miriya on his retirement at the age of 62 from his government service on dated 31st March 2022.

We took him to his home at his native village in Dahegaon amidst the sound of DJ while dancing in an emotional environment.
Even my picture was printed in the print media newspaper Jagprerna, Lanji (Balaghat, MP) on dated 02nd April 2022. One memory
of that function is- we sang a 'welcome song' "Aaye Hain Atithi Dwar..." written by me on the karaoke music of Na Kajre ki dhaar in the background.
---
I have thrown a dinner party to my friends, family, neighbors, relatives and old and new staff to celebrate and share joy of my employment on dated 01 April 2022. (No! It's not an April Fool.)
---
I got an opportunity to appear in the level 2 Digital Audition of Kon Honaar Crorepati 2021 and KHC 2022 twice and Kaun Banega Crorepati Season 13 once during this period, however my fortune did not support me in going to the next level audition.
---



We prayed to Maa Bamleshwari Devi Temple Dongargarh, Chhattisgarh last month. Vlog of our tour will be releasing soon on my YouTube Channel.
---
We visited to the temple of Maa Pandharipath Devi at Wari/Kharadi which is situated in Lanji tehsil in Balaghat District in the state of Madhya Pradesh twice this year with family and took blessing of the goddess.
---
You know that I run a YouTube channel named RDH Sir. I share English Tips and Tricks, Educational content, Job notifications, current affairs and Information about quiz shows like Kaun Banega Crorepati, Kon Honaar Crorepati and The Big Picture etc by uploading videos on my YouTube Channel. I publish all kind of content on my YouTube channel in various niches (Playlists). I am glad to share that my RDHSir YouTube Channel finally hit the milestone of 5.6k+ subscribers and it's growing day by day. My RDH Sir channel has also completed 5,40,000+ views. I am satisfied with the overall performance of my channel.

I am planning to publish my upcoming videos through this blog too. I remember that I had promised that I would be active on this blog which could not be possible but believe me; I really think to active this blog now! I also think to publish blog posts on regular interval for sharing my day to day experiences. And yes, I am glad to announce that I am going to come back in the commercial book review industry soon under my book reviews venture BookLysis by RDH Sir on my website.

---
For those who keep asking about my marriage, let me inform you that I am still single; but yes! You may hear the news of me getting married by my next birthday.

---
I am eagerly waiting to somehow contact my beloved sister (you know that I always refrain from mentioning her name/identity). I always write a blogpost on the occasion of her every birthday. I had posted a blog post on my sister's previous birthday too! (I wish I will get a single greeting from her someday, and I have been waiting for that day for last 11 years!) I still wish that my phone will ring someday and my sister will be on dialer's end… If she is reading this… Dear sister… your brother is just like this… a soft hearted emotional person… I don't wish for anything… I just want to be your bro… I want to tell the world that- Yes! I have a sister! The best sister… My princess… My Angel… I wish that you will wholeheartedly accept me as your brother… Distance and lack of conversation can never lessen my love and respect for you… You were the best! And You Are The Best Sister!!!

Although I could not contact the one whom I love the most treating as my sister... I got one caring sister last year... Yes! I am talking about Miss Hina Khan who once happens to be a viewer of my YouTube Channel... But she is my sister and I am her brother now!
I don't know whether she would like it or not because I am mentioning her name without her consent but I am pretty sure and hope that she will be awestruck to see her name if she is reading this blogpost. Hahaha..)!

---

It's 18th April today!
I feel myself very blessed and I am literally 10957 days blessed now that I am born in the month of April. Fruitfully a week of my birthday (i.e. 11th – 18th April) is more fortunate period. 11th April comes with a birth anniversary of a great social activist Mahatma Jyotirao Phule, 14th April is a birth anniversary of the architecture of India's constitution Bharat Ratna Dr. Babasaheb R. Ambedkar ji and then 18th April--- No! No! I am not going to write my name in the queue of mentioned great personalities. In fact I am not talking about my birthday here. It's also the 164th birth anniversary of the first Maharashtrian recipient of India's highest civilian award, 'Bharat Ratna' Maharshi Dhondo Keshao Karve ji. Three great souls were born in the land of India during the same period. Its also the 67th death anniversaty of one of the greatest scientists Albert Einstein. I mean to say that my birthdate is associated with heritage of of social reform. And it's an another fact that 18th April is celebrated as 'World Heritage Day'.
Even an auspicious Hindu festival of Ram Navami was occurred in the same week of my birth in 1992 on April 11th. At the same time my birthday falls during the holy month of Ramadan as per Islamic calendar. So I feel blessed; who knows, God/Allah might want to happen something good from my existence and that's why he would have sent me on this planet on April 18th for some unknown but good reasons!

I was born on Chaitra Krishna Trutiya as per Hindu Marathi calendar (Panchang) and Vaishakha Krishna Pratipada as per Hindi Panchang. Today is Chaitra Krishna Dvitiya according to Marathi Panchang when I am celebrating my 30th birthday according to date. That means my 30th birthday falls again tomorrow as per Marathi tithi.

---
Today while celebrating my 30th birthday; I wish to determine something. I sleep too late from last few years. I need to determine a perfect sleeping timetable and to stay resolved with that determination! It could not be possible for me though I have resolved the same so many times in the past; but I have to make a resolution now! I had started exercising in the mid of 2020 but I stopped practicing within two weeks after having body pain. I resolve to start exercising at home once again.

---
While celebrating my 30th birthday today, I would also like to wish my former students Master Om Y. Asati (a student of std. X) and Miss Vaishnavi Girhepunje (a student of std. VI) in AVM, Rondha; who are sharing their birthdays with me today. One of my favourite cricketers and vice-captain of Indian cricket team KL Rahul's birthday also falls on today; I do not only share my birthday but the exact date of birth 18th April 1992 with him. I also greet my student of std. X Master Tanmay U. Patle whose birthday falls tomorrow. Happy Birthday to all of them. May their future shine brightly and they achieve everything whatever they deserve in their life! I would also like to wish my friends Er. Kuldeep Bisen (along with his Dad) and Mr. Vijay Wairagade who will be celebrating their birthday on 20th April. This year's birthday will be the last birthday in Vijay's bachelor life since he is going to get married just day after his 31st birthday on April 21st! I wish him and his to be wife a very happy married life and great future ahead!
---
Today, while celebrating my 30th birthday... I thank to the almighty for each and every day of 10957 blessed days my life so far in this beautiful world..! I wish to say my thanks to all of you for making my birthday special with your wishes.
I can't mention all names here but I would like to mention two names of my former students. I thank Vaishnavi Girhepunje who wished me first among all this year in advance via Instagram. Coincidentally she also shares her birthday with me. I would like to also thank Miss Saloni Patle who wished me at 12:00 midnight sharp. Special thanks to my parents, my family and my younger brother Vivek.
This birthday is quite more special for me because
I got blessings from my elder uncle Mr. Yadoraoji Hajare
who had come to our home from his native place Panjara (Rengepar) near Tumsar in Bhandara district. He was our guest who returned to his village yesterday. I can't forget the memories of my time that I spent with him in this entire week. I was astonished to see his knowledge about English grammar and curiosity of learning new things... If he would have opportunities of better education, he would have been retired from any senior post of Government service. I can see the hunger of education in him even today at the age of 71.
I would like to thank all the present and former students, parents and staff of Government Middle School Miriya as well as Abhinav Vidya Mandir Rondha / Salekasa for making this day memorable by their WhatsApp Statuses, messages and calls on my birthday. I wish to mention one more name in this list but I don't know if she remembers my birthday or not (though I had informed her my birthday), but if she does, I thank my dear sister. I wish I could get a single wish from her. Unfortunately, I would be refrained from mentioning her name directly here.
I can't express my gratitude in return for your blessings and best wishes on this very special day. I am not exaggerating but I am receiving continuous notifications of birthday wishes on Whatsapp, Facebook, Messenger, Phone calls etc. Abhi bhi 'Thanks' type karke ungliya dard kar rahi hai… ! (Still my fingers have pain after replying thanks..!)... I always try my best to reply every single wish I get, but its not possible to reply all of you guys... Please accept my thanks through this blog post.

Thank you all who sent me greetings and good wishes on my birthday! Thank you readers! Thank you all!


Yours truly,
Rajesh D. Hajare (Yes! A birthday boy for today)
18th April 2022, Monday
Amgaon Dist-. Gondia