8th Blogpost On My Birthday
I, once again welcome all of you to read my blogpost on my birthday. Today is the
18th April, 2020.
This is
my 28th birthday!
28th! Oh My God! Am I looking old? I can't believe that I have turned 28 today! No… No! I am still young!
Budha nahi ho gaya mai!
(I have not grown old...!!)
Kya?
HahahaJ!! Lol!! I am eagerly excited to express my feelings on this very special 28th birthday of my life.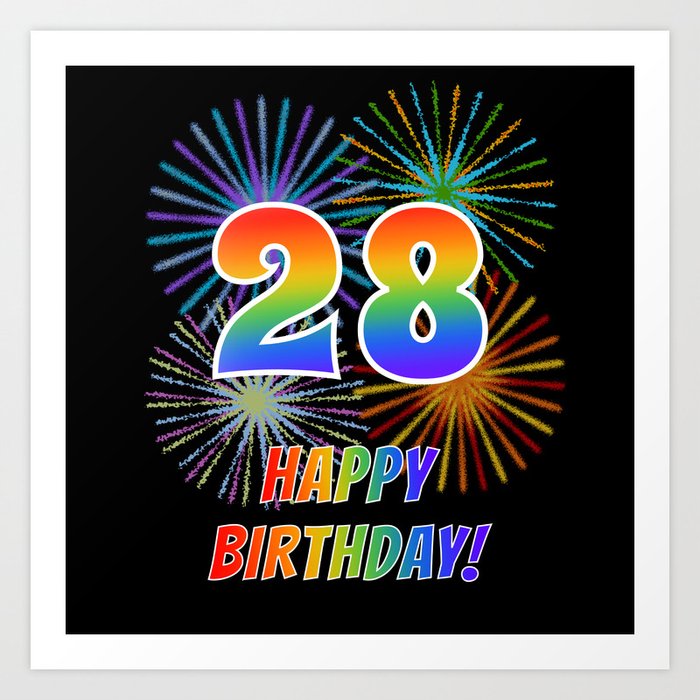 Sourge: ctl.s6img.com
This birthday is something special for me. You would ask me- why? Because –
it's a Saturday!
I am born on 18th April 1992 on Saturday.
This coincidence of same date on same day comes rarely in a Gregorian calendar year.
After 1992, 18th April came on Saturday in 1998, 2009, 2015 and now in 2020 only.
I did not know even a concept of birthday in 1998, I was totally unreachable or out of coverage from the virtual world of internet in 2009; however I remember that I had celebrated my birthday in 2009. You can
read my blogpost on my 23rd birthday in 2015
; and
here is my 28th birthday today!
28
th
!! Uff!! Oye hello!!
Abhi to meri shadi bhi nahi hui
(I am still single/bachelor)! HahahaJ!! Lol!! But this perfect combination made my birthday more special!
I know that I am not any big celebrity or a great social reformer; but I feel myself very lucky and very fortunate that I am born in April. Fruitfully a week of my birthday (i.e. 11th – 18th April) is more fortunate period. 11th April comes with a birth anniversary of a great social activist
Mahatma Jyotirao Phule
, 14th April is a birth anniversary of the architecture of India's constitution Bharatratna
Dr. Babasaheb R. Ambedkar
ji and then
18th April---
No! No! I am not inserting my name in the queue of mentioned great personalities. In fact I am not talking about my birthday here. It's also the 162
nd
birth anniversary of the first
Maharashtrian recipient of India's highest civilian award
, 'Bharatratna' Maharshi
Dhondo Keshao Karve
ji. Three great souls were born in the land of India during the same period. Even an auspicious Hindu festival of
Ram Navami
was occurred in the same week of my birth in 1992 on April 11th. So I feel myself blessed and consider who knows, God/Allah might want to happen something good from my existence and that's why he would have sent me on this planet on April 18
th
for some unknown reason!
I wish to contribute through my writing to bring peace and harmony in favour of humanity and mankind in the society around the globe.
I know that I can never touch even their feet who I have mentioned above; it doesn't matter how big success I achieve! I don't even imagine that! But I can certainly try to be in memories of lakhs of you. Now you are in lakhs across the world but my readers will be in crores someday, then millions and hopefully billions if you keep supporting me…!! I will make it happen through my literary work. Then you won't need WhatsApp Status, Facebook notification or birthday alarm to remember you my birthday unlike today.
I never imagined that I will ever celebrate my birthday like this year. You are very well aware how the
entire world is fighting a war against an invisible virus
. Even going outside home has become a difficult task due to threat of an invisible virus called n
Corona
or COVID19. Doctors, nurses, health service officials, policemen, and entire bureaucrats are bravely playing their challenging tasks like warriors against this invisible enemy in this war. They are working 24x7 days and nights.
All states' governments and union government are doing their best
to save our lives in this difficult situation. Now it's our responsibility. We ought to follow the instructions issued by the government and officials. It's time to show the real patriotism! Do you know today's breaking News? (Not literally):
Retelecast of an epic the
Ramayana
is being aired on DD National nowadays due to lockdown! In today's episode which is aired in the morning, demon
Ravana
is killed by Lord
Rama
in the war on the battlefield. In the same way, we will surely kill this unknown virus together one day! We don't even need to fight on the battlefield; but if we need victory of mankind over this invisible virus, WE HAVE TO STAY AT HOME! OUR HOME IS OUR BATTLEFIELD for few days! If we won't leave our battlefield (home or your current place), we will have won the war against this invisible virus! Humanity will win the war!
I do publish my birthday blogpost every year but I never ask you for my birthday gift. But this year I want you to ask for my birthday gift... No... I don't want any gift. Then what? Hmmm!
Please stay at home!
Always cover your face with mask or a clean cloth like handkerchief. Please wash your hands for at least 20 seconds before touching your hands to your eyes, nose and mouth.
Please show your support to Lockdown. Although, all this activities seem like limitations; it's only way to protect ourselves in this difficult time. I appeal not to spread rumours.
Avoid rumours
and
don't believe on false messages
. Refer only authentic sources to get news and updates about the present situation.
Install Aarogya Setu App
. Remember, 'Precaution Is Better Than Cure!' I urge,
Stay Home! Stay Safe!
---
I am aware that I have been very irregular on my posts recently but let me assure that my passion towards blogging has not faded. Please do not feel that I am not serious about blogging. Well! The truth is I was so busy that I could not fulfill my promise of revamping, redesigning and resetting my blog and website. But believe me; the fresh look of my blog will be launched very soon. I really appreciate your patience.
Actually I have activated my own
YouTube channel named RDH Sir
. I am going to start sharing English Tips and Tricks through my channel soon. I publish any kind of content on
my YouTube channel
in
various niches (Playlists)
. But I am thinking to create my other channels dedicated for particular niche. I am thinking to publish my upcoming videos through this blog too. I am also thinking to publish blog posts regularly for sharing my day to day experiences.
The year 2019 was full of happy events for me, filled with joy. You might have read my previous birthday blogpost.
I remember;
I had hoped that I would get a permanent job.
Unfortunately I didn't get such a permanent job but I took a step towards this direction.
I have qualified in Madhya Pradesh Madhyamik Shikshak Patrata Pariksha
or
Madhya Pradesh Middle School Teachers Eligibility Test (MPTET, Grade 2)
for the post of English Teacher
and accumulated
117
119.17 out of 150 marks
on 18th February 2019, exactly 2 months before
my 27th birthday
.
I have ranked 157th
among all candidates who were appeared in the test. I am a citizen of Maharashtra but I was eligible to appear in that exam and obtained quite good marks. Selection process for the same is being undergone by the respected administration of School Education Department at Directorate of Public Instructions, Madhya Pradesh.
I have been selected for the post of Middle School English Teacher as per Provisional Selection List
issued by the department on 29
th
Feb 2020. I pray to the almighty to keep his blessings with me. If all goes well, I am really hopeful to announce that I have got a permanent job in MP.
I have also cracked Central Teacher Eligibility Test (CTET) Paper I and Paper II in my single attempt last year
. I obtained 103 out of 150 Marks in CTET Paper I on dated 7th July 2019; and 97 out of 150 Marks in CTET Paper II on dated 8th December 2019.
I would like to share that I have recited a Marathi poem
'Paani Wachwa – Jeevan Wachwa'
(Save Water – Save Life)
at Kavisammelan organized by the Tirora branch of Vidarbh Sahitya Sangh in Tirora on dated 11th August 2019. I am overwhelmed and proud to share that my poem was appreciated among all recited poems there by the president of the program and a member of Maharashtra State Sahitya Sanskruti Mandal Mr. Lakhansingh Katre Sir.
We hosted
26th Akhil Bhartiya Navodit Marathi Sahitya Sammelan
in Gondia last year on 30
th
and 31
st
Dec 2019 in which I recited a Marathi poem
'Shetivar Kavita'
(
A Marathi 'Poem
on Farming'). The special thing about the event was that we were hosts of the event and I acted as the President of Gondia District branch at
Akhil Bharatiya Marathi Sahitya Parishad, Pune.
I have visited to Aqua Village Water Park in Rajnandgaon along with our enthusiastic students and staff of Abhinav Vidya Mandir Rondha / Salekasa for its school picnic last year on 13
th
Dec 2019.
Last year went well in my life. And I have cherished so many memories... I hope to have more enthusiastic and successful year ahead!
I could not write so many songs last year. This year, I did not only write a song but also the Welcome song 'Aaye Hai Atithi Dwar' has been performed by my colleagues Miss Gunwanta Warkhade and Mrs. Bisen along with two students of class VIII Miss Saloni Patle and Miss Shital Lilhare in an inaugural ceremony at an annual function of Abhinav Vidya Mandir, Rondha / Salekasa in the devine auditorium of Ardhanareshvaralay Temple, Halbitola (Salekasa).
Today while celebrating my 28th birthday; I wish to determine something. I sleep too late from last few years. Vision Power of my left eye's spectacle glass has been increasing. Visibility power of my eyes is being deteriorated day by day. I need to determine a perfect sleeping timetable and stay resolved with that determination! It could not be possible for me though I have resolved the same so many times in past; but I have to make a resolution now! I was arising early but now my morning schedule is so disturbed that I wake quite late in the morning. I am aware about the slogan 'Early to bed and early to rise makes human healthy.' But I am convinced that if I sleep early; my morning time table will be resolved by default. I also resolve to start exercise at home.
While celebrating my birthday today, I would also like to wish my students Master Om Y. Asati (a student of std. VIII) and Miss Vaishnavi Girhepunje (a student of std. IV) in AVM, Rondha; who are sharing their birthdays with me today. One of my favourite cricketers of Indian team
KL Rahul
's birthday also falls on today. I not only share my birthday but the exact date of birth 18
th
April 1992 with him. I also greet my student of std. VIII Master Tanmay U. Patle whose birthday falls tomorrow. Happy Birthday to all of them. May their future shine brightly and they achieve everything they deserve in their life. I would also like to wish my friends Vijay Wairagade, Er. Kuldeep Bisen (along with his Dad) who will be celebrating their birthday on 20th April.
I can't express my gratitude in return for your blessings and best wishes on this very special day. I am not exaggerating but I am receiving continuous notifications of birthday wishes on Whatsapp, Facebook, Messenger, Phone calls etc.
Abhi bhi 'Thanks' type karke ungliya dukh rahi hai… !
Today, while celebrating my 28th birthday... I wish my thanks to the almighty for each and every day of my life in this beautiful world..!
I wish to say my thanks to all of you for making my birthday special with your wishes.
I can't mention all names here but I would like to mention one name of my student Miss Saloni Patle who wished me first among all this year.
I would like to thank all the students, parents and staff of Abhinav Vidya Mandir Rondha / Salekasa for making this day memorable by their WhatsApp Statuses, messages and calls on my birthday.
Special thanks to my parents, my family, relatives, friends, and the last but not least,
my younger brother Vivek D. Hajare for making and presenting a homemade cake this year as we were unable to arrange one from the shop due to lockdown!
I wish to mention one more name in this list but I don't know whether or if she remembers my birthday or not, but if she does, I thank my dear sister. I wish I could get a single wish from her. Unfortunately, I would be refrained from mentioning her name directly here,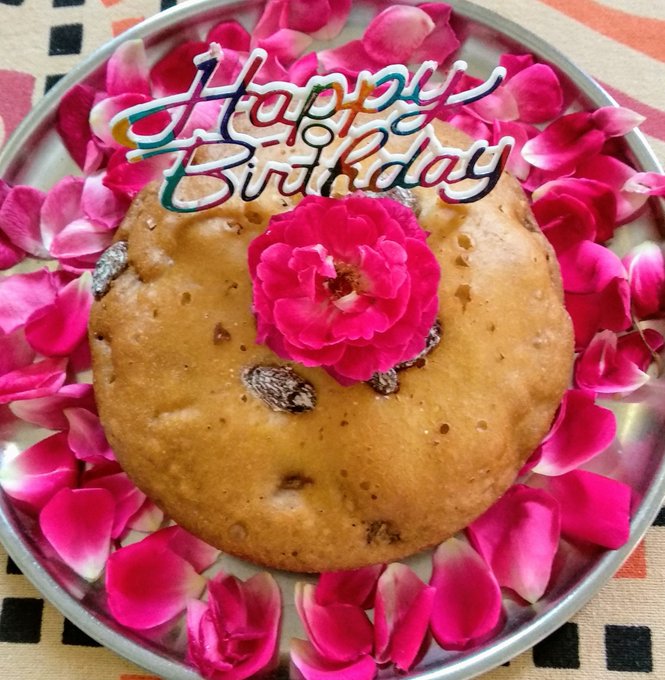 Homemade cake by my brother Vivek D. Hajare
on occasion of my 28th birthday. (Image Copyright: RDHSir)

Thank you all who sent me greetings and good wishes on my birthday!
Thank you readers! Thank you all!
Yours truly,
Rajesh D. Hajare
(Yes! A birthday boy for today)